Rowena Crosbie
Rowena Crosbie is President of Tero International, co-author of, Your Invisible Toolbox®: The Technological Ups and Interpersonal Downs of the Millennial Generation, and co-host of the show, "Your Invisible Toolbox." Since 1993, Tero International has earned a distinguished reputation as a premier research and corporate training company. Tero has been named on the Best Of List by The Des Moines Business Record in their annual Reader's Poll every year since the category was introduced in 2007. Thousands of professionals are graduates of Tero's proprietary workshops. Courses addressing relevant business topics such as presentation skills, professional image, business etiquette, negotiation skills, leadership, and intercultural competence have been delivered in 12 countries and business professionals from over 40 countries are numbered among Tero's graduates.
Ro's commitment to help people challenge the way they think combined with her strong communication skills ignites a passion in her listeners which endures long after her presentations are over. Her ability to inspire audiences has consistently earned her reviews as a top-rated speaker and trainer. The design of her programs takes the wisdom of many years of research from the philosophical to the practical for her listeners. People who leave her sessions, leave with useful tools to become the very best they can be in both their personal and professional lives.
In addition to writing Your Invisible Toolbox and numerous training manuals, Ro has authored several articles, many published in International Journals and Magazines. Her article, Learning the Soft Skills of Leadership published in the UK Journal, Industrial and Commercial Training was among the top 20 downloaded articles.
She serves on the Board of Directors for Hubbell Realty Company and Delta Dental of Iowa. She serves on the Board of Trustees for Grand View University. She also serves on the Board of Directors and on the Executive Committee for the Greater Des Moines Partnership. She is a past Advisory Board member for Hertz Farm Management, Past-Chair of Iowa State University's Center for Industrial Research and Service (CIRAS) Advisory Council and Past President of the Central Iowa Chapter of ASTD (now ATD). Ro served on the Leadership Education and Development (LEAD) Advisory Committee at Drake University and was appointed by the Governor of the State of Iowa to the Regional Workforce Investment Board where she served through 2014. She is a member of the Canadian Institute of Management, the National Association of Women Business Owners (NAWBO), the Association of Talent Development (ATD) and the Society of Human Resource Management (SHRM). She is a Past President of the Rotary Club of Des Moines, Past-President of the Civic Music Association and Past-Learning Chair of EO Iowa (Entrepreneurs Organization).
Ro received the Immigrant Spirit Award at the International Entrepreneurs Summit in 2018. She was honored as the NAWBO Iowa 2017 Legacy Hall of Fame Award Inductee. In 2017 she was inducted into the Wallace Winkie Foundation Lifelong Learner Hall of Fame. She was named the Woman of Influence Business Owner of the Year by the Des Moines Business Record in 2009 and was Executive of the Year by Executive Women International, Iowa Chapter, in 2004.
She is certified to administer the Myers Briggs Type Indicator (MBTI) personality assessment inventory and the FIRO-B. Ro graduated from the University of Manitoba with an emphasis in management and is a graduate of the Greater Des Moines Leadership Institute.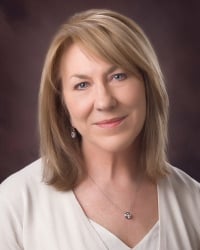 Deborah Rinner
Deborah is the co-author of, Your Invisible Toolbox: The Technological Ups and Interpersonal Downs of the Millennial Generation, and co-host of the show, "Your Invisible Toolbox." She joined the Tero Team in 2002 and brought expertise on business etiquette and cultural communication issues that arise daily in business situations pertinent to presenting a positive image in our changing times. In addition to a masters in effective teaching from Drake University, Deborah is licensed as a Corporate Etiquette and International Protocol Consultant from The Protocol School of Washington® in DC. Deborah's role at Tero has evolved to include serving as a lead trainer in presentation skills, negotiation skills, leadership development, corporate etiquette, cross cultural communication and executive presence as well as customizing curriculum for clients from various industry groups. Deborah also serves as an executive coach to many of Tero's clients, and is an experienced keynoter.
Since 2005, Deborah has advised Tero as an interculturalist, focusing on developing curriculum and programming on cross cultural competence and communication in a corporate environment. Deborah is certified as an administrator of the Intercultural Developmental Inventory (IDI), a statistically reliable and valid assessment of cultural worldview and intercultural competence and has completed coursework around intercultural communication, training design in intercultural communication, managing intercultural virtual teams, facilitating developmental interventions in intercultural communication, cross cultural training in international organizations, coaching global executives, emotional intelligence and diversity.
As a keynote speaker for Tero, Deborah has addressed audiences in corporate cross cultural communication and organizational applications of business etiquette and protocol as well as change management, leadership development, and negotiation skills. Deborah has spoken to a wide variety of audiences for Tero such as, the Management School for Tech de Monterey, PLRB, the National Association of Legal Professionals, Union Pacific, Principal Financial Group, OPPD and Nationwide Insurance.
Deborah has been an educator, trainer and consultant in the public and private sector for over thirty years. She is a frequent contributor to news columns and radio broadcasts and is a member of the Association of Training and Development, Rotary International, American Women in Communication, a Protocol and Diplomacy Officers International, and the Society for Intercultural Training Education and Research.
Deborah is part of the executive and professional coaching team.